Speed control switch
Monitoring the rotational speed of the switch from inhibition referred speed switch for belt conveyor, bucket upgrade, propeller, grinders, crushers, pumps,Centrifugal dry fire, mixer monitoring skid, belt breakage, shaft cut and overload.
Action principle
Switch outputs a signal by the comparator treatment, and the measured object movement also generates an oscillation frequency into the comparator, when the frequency of the oscillation frequency of the measured object set frequency is less than the speed switch
Switch is turned on; when the vibration frequency is greater than the measured object speed switch setting frequency switch is closed o KG-Z-K1 objects suitable for detecting low-speed, low speed when the object moves
The preset speed, the switch output is open.
Note: All speed switch shall be energized delay 9 seconds to make the starting line monitoring of machines and equipment. Figure 1 is a broken link monitoring.
Adjustment
Switch enables multi-turn potentiometer to adjust the frequency increases clockwise, counterclockwise rotation frequency is reduced
Technical parameter

Range of product

OsiSense XS

Series name

Application

Sensor type

Speed Switch

Device application

Rotation monitoring

Sensor name

XSA

Sensor design

Cylindrical M30

Size

81 mm

Body type

Fixed

Detector flush mounting acceptance

Flush mountable

Material

Metal

Enclosure material

Nickel plated brass

Type of output signal

Discrete

Wiring technique

3-wire

[Sn] nominal sensing distance

10mm

Discrete output function

1NC

Output circuit type

DC

Discrete output type

PNP

Electrical connection

Cable

Cable length

2m

[Us] rated supply voltage

12...48 V DC with reverse polarity protection

Switching capacity in mA

<= 200 mA with overload and short-circuit protection

IP degree of protection

IP67 conforming to IEC 60529

Thread type

M30 x 1.5

Detection face

Frontal

Front material

PPS

Adjustable frequency range

6…150 cyc/mn

Operating zone

0…8 mm

Differential travel

3...15% of Fr

Repeat accuracy

3% of Sr

Cable composition

3 x 0.34 mm²

Wire insulation material

PvR

Status LED

Output state: 1 LED (red)

Supply voltage limits

10…58 V DC

Switching frequency

<= 100 Hz

Maximum voltage drop

<1.8 V (closed)

Current consumption

0...15 mA no-load

Run-up delay at power-up

9 s standard

Marking

CE

Threaded length

57MM

Height

30MM

Length

81MM

Product certifications

CSA

UL

CCC

Ambient air temperature for operation

-25…70 °C

Ambient air temperature for storage

-40…85 °C
Product Size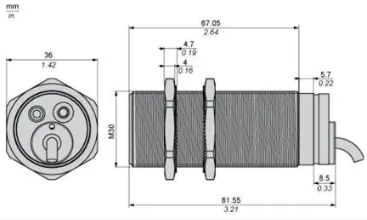 Wiring diagram